Domestic and international refrigerated transport company
Services
Transport at controlled temperature
International full load refrigerated transportation
Grupo Mazo specialises in full load refrigerated transportation throughout Spain (including the Canary Islands and the Balearic Islands), the European Union, Morocco, and Algeria.
Non-stop. two-driver trucks service.
Non-stop service with two drivers for urgent transportation of goods, which need to reach their destination as quickly and as fresh as possible.
Adaptation to the type of client
We adapt to the specifications of all our clients, from small exporters to large distribution chains. We treat every shipment with the same dedication and commitment to ensure the goods reach their destination in due time and form.
Earning our clients' trust
More than 50 years experience in exporting fruit and vegetables from Spain to the rest of the continent. Decades of work, which have seen the ranks of our loyal clients grow and grow, especially in Great Britain, Germany, France, and Benelux
Groupage Service from Valencia
We carry palletised consolidation loads of horticultural goods every day from Valencia to Madrid (Mercamadrid), Barcelona (Mercabarna), and Perpignan (Saint Charles International).
Grupo Mazo combines road transportation with ship and railway transportation to offer more efficient and sustainable routes.
Maritime
Leaders in shipping to the Canary Islands and Balearic Islands from the very first day we began this service in 1989.
We carry more than 100 shipments every day.
We have our own offices in Tenerife, Las Palmas, and La Palma where we manage inbound and outbound shipments on the island and keep in touch with our local clients so as to be on top of any unforeseen circumstances that may arise. This means we operate as a one-stop partner, free of intermediaries.
We use the shortest route to Great Britain, shipping from the north of Spain in order to reduce our road miles.
We are one of the few Spanish transportation companies to operate an intermodal transport service between Sardinia, Italy, and Spain, and between France and Corsica.
We travel to Morocco and Algeria via the main spanish ports. We distribute throughout both countries.
This is the most environmentally-friendly combined transport service. It has a lower carbon footprint and provides a final product with a low emissions rate.
We link the south of France and Benelux with the VIIA rail motorway network. Our semi-trailers travel 1,050km by train. This is how we reduce our impact on the Environment and help to reduce congestion on motorways.
After the train reaches Luxembourg, our tractor units collect them before setting out on the final motorway phase of the journey
We also link France and the UK by train via the Channel Tunnel.
What do we transport?
Your goods in perfect condition
90% of our loads are fruit and vegetables but we also transport frozen and dry goods (cosmetics such as soap or cream; textiles, packages...)
Fruit and vegetables
Meat products, both fresh and precooked
Dairy products
Ice cream and frozen desserts
Ready-to-eat products (salads, etc.)
Refrigerated beverages
Fresh and frozen fish
Bakery and pastry products
Flowers and plants
Our
fleet
FLEET
Grupo Mazo has its own fleet of over 1,000 state-of-the-art vehicles, tractor units, and semi-trailers, including some of the most modern vehicles on the road today in Europe. The tractor units and semi-trailers are actually upgraded every three and five years, respectively, which significantly reduces the risk of faults and the vehicle being put out of action.
More than 1,000 of our last generation vehicles
The fleetwide integrated GPS system allows us to continuously track and monitor the whole fleet to prevent delays and complications.
Our entire fleet meets EURO VI emissions standards.
The latest technology in the semi-trailers provides online monitoring of fridge temperature.
All the semi-trailers are capable of handling temperatures from -30°C to +30°C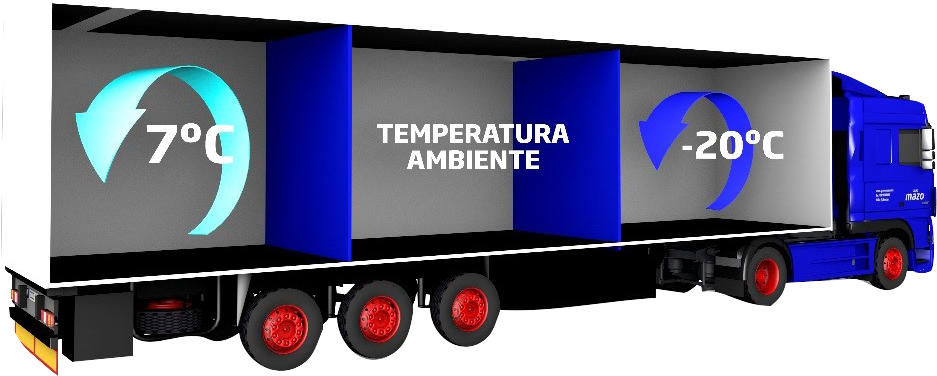 Innovative multi-temperature vehicles (capacity for combining several temperatures in a single vehicle; a service that very few transport companies offer).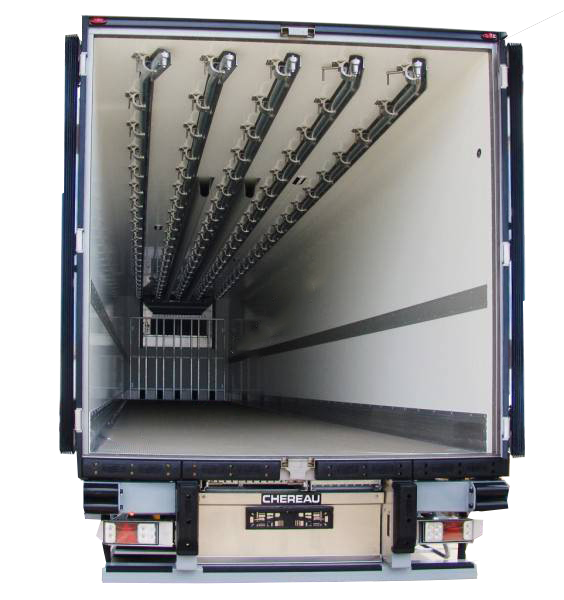 Specially adapted semi-trailers for the meat sector featuring hooks for the transportation of large pieces of meat.